We are offering something "out of the box" for our 550 Spyder builds. New upholstery options, if you want to step away from the solid original style upholstery that has been done over and over... we have just what you are looking for. This gives your Spyder's interior a luxury appeal without being too "over the top". Our upholster has over 20 years of experience, he has done custom interiors and interior repair for all our local high end auto dealerships including: Lamborghini of Scottsdale, Ferrari of Scottsdale, Bentley, Aston Martin, Land Rover, Porsche, Rolls Royce, Maserati, Audi, and BMW of North Scottsdale just to name a few.
Here we have our Premium R.R. Red Leather with LARGE DOUBLE DIAMOND stitching, seat backs were upholstered, breather holes in the backrest were optional.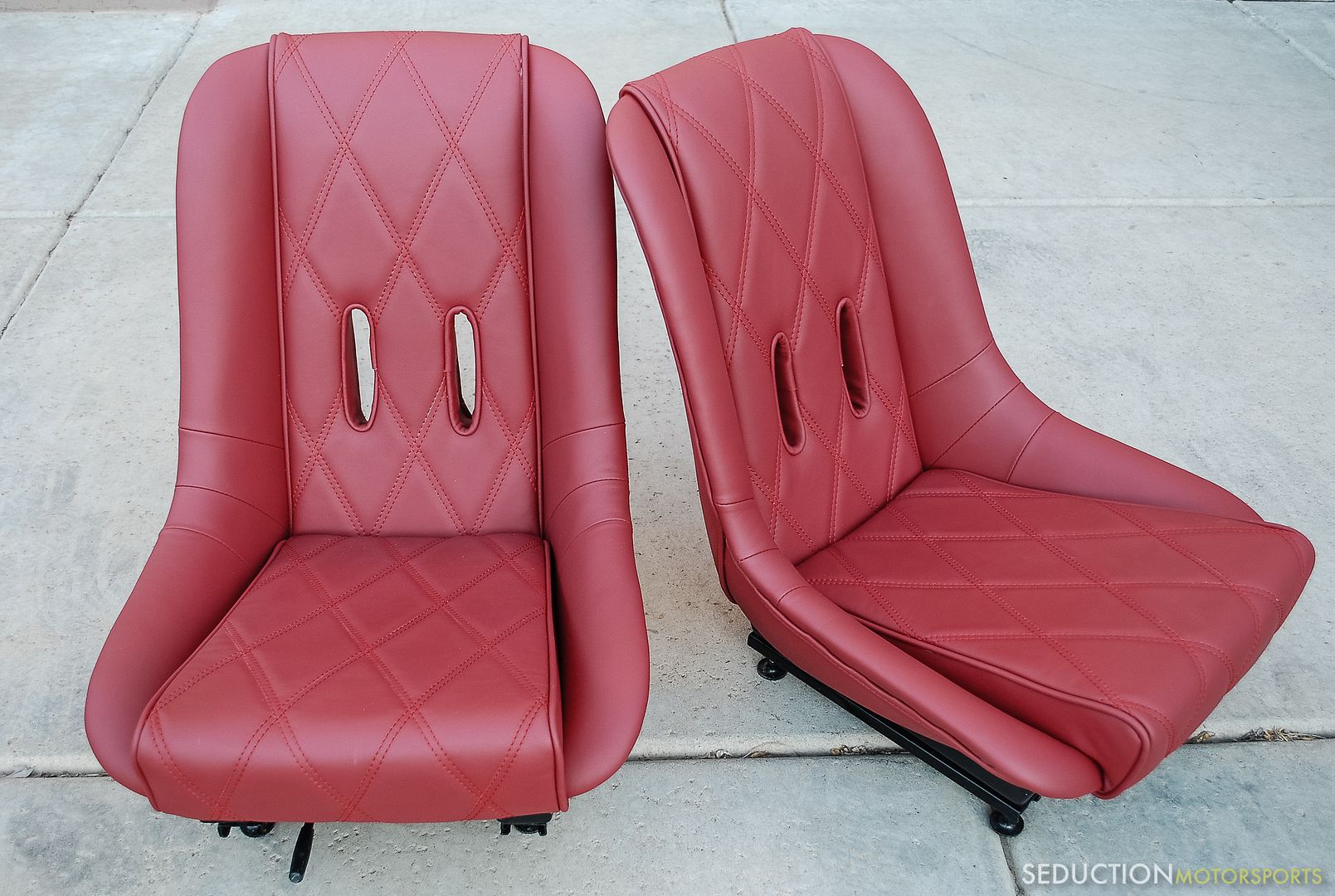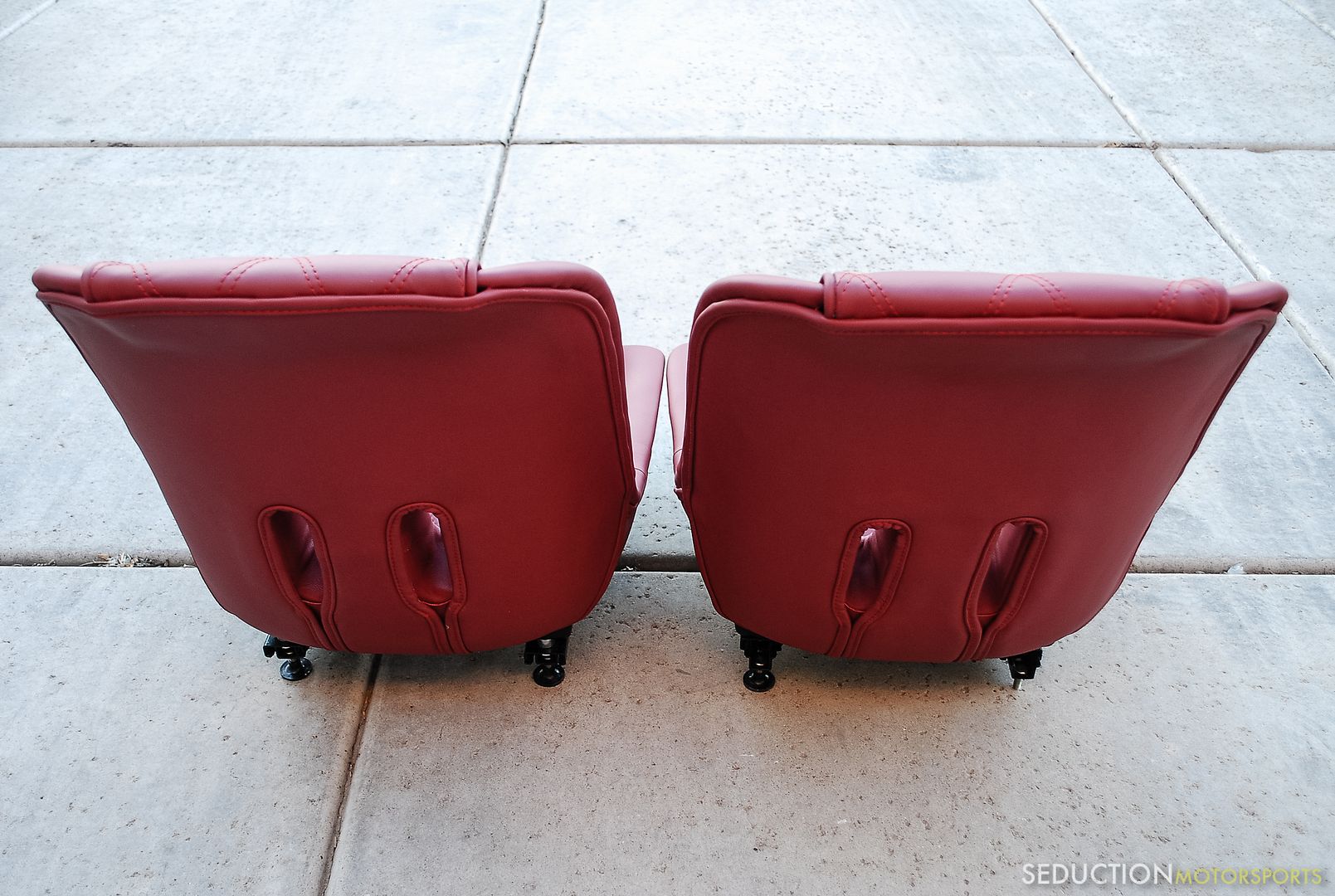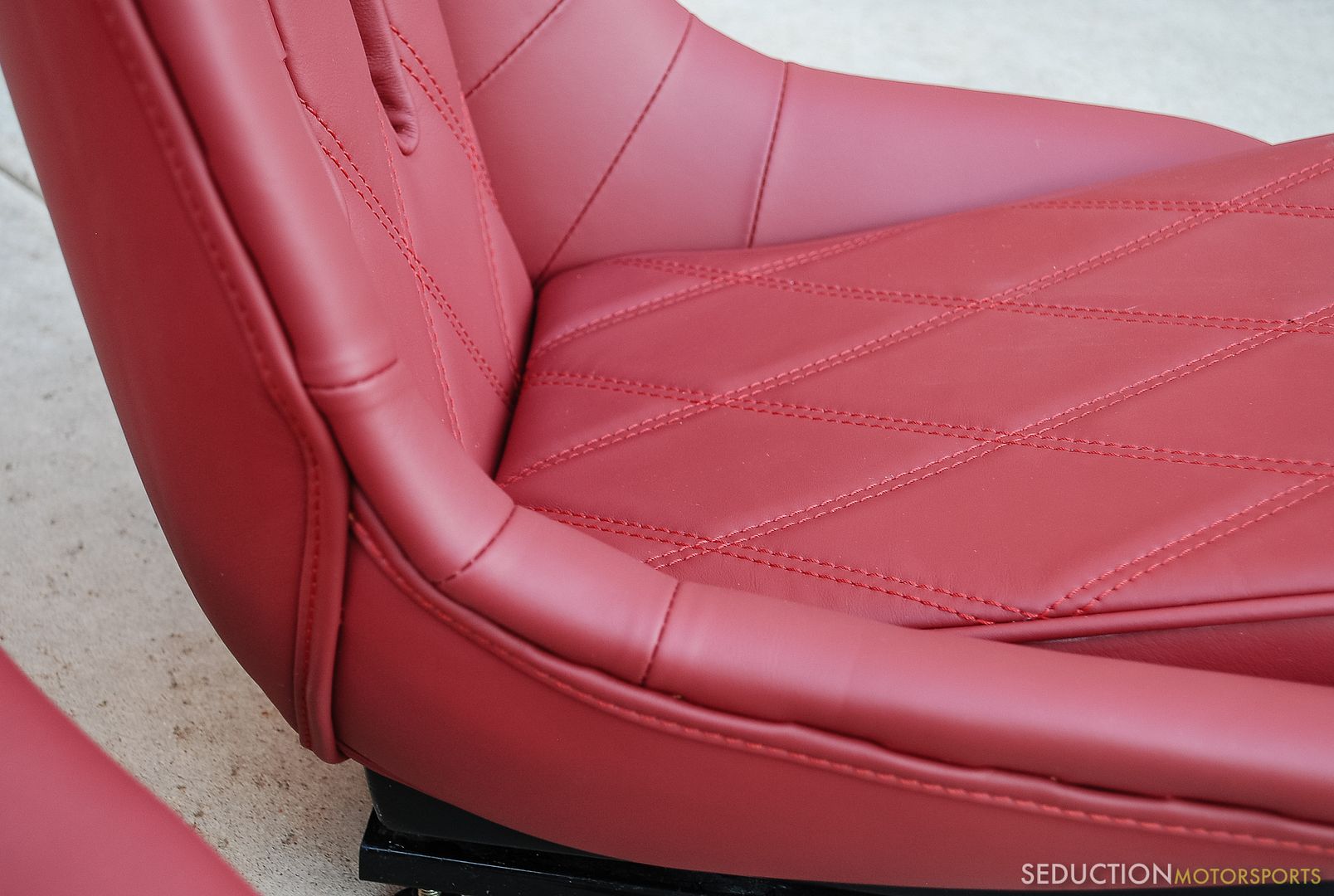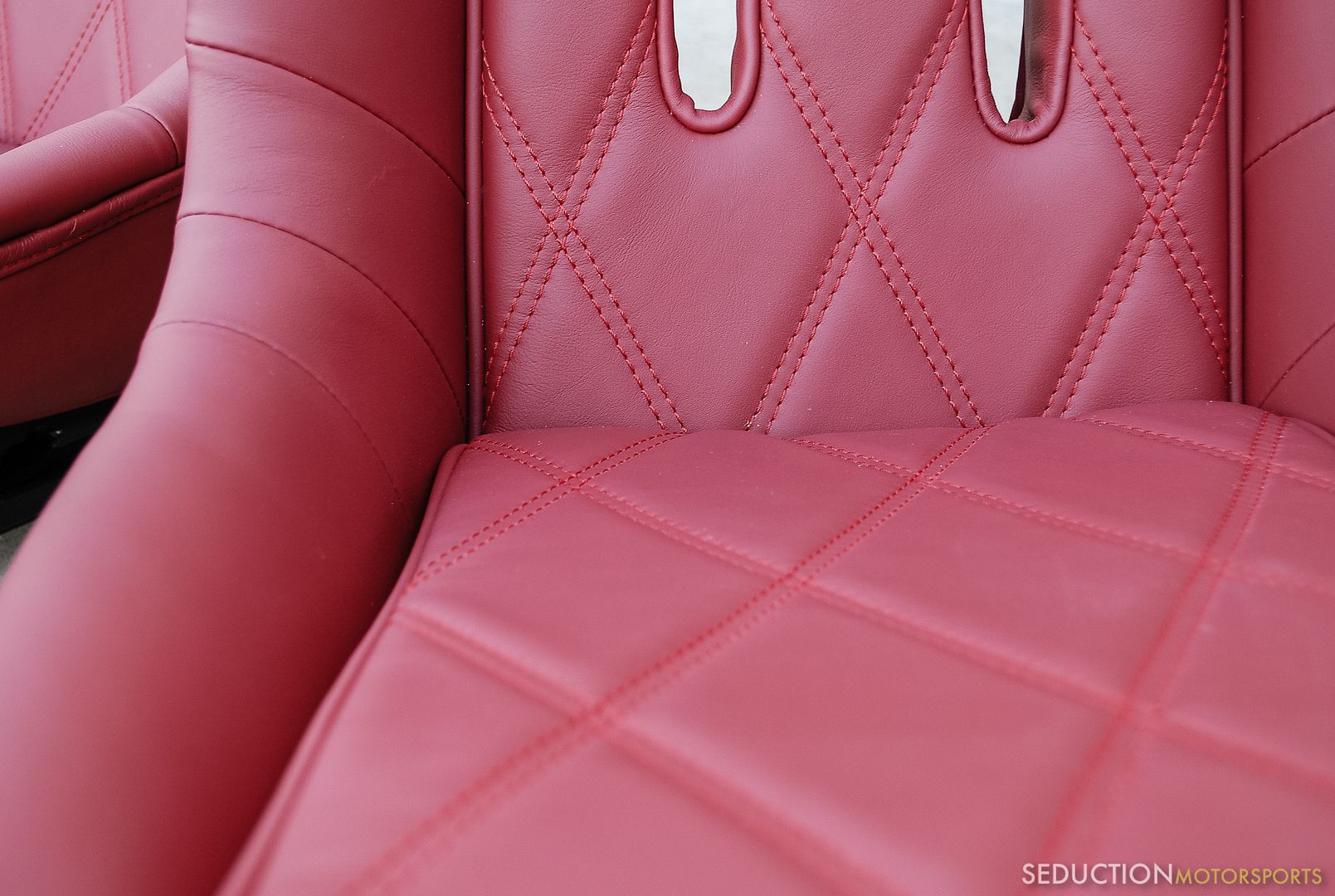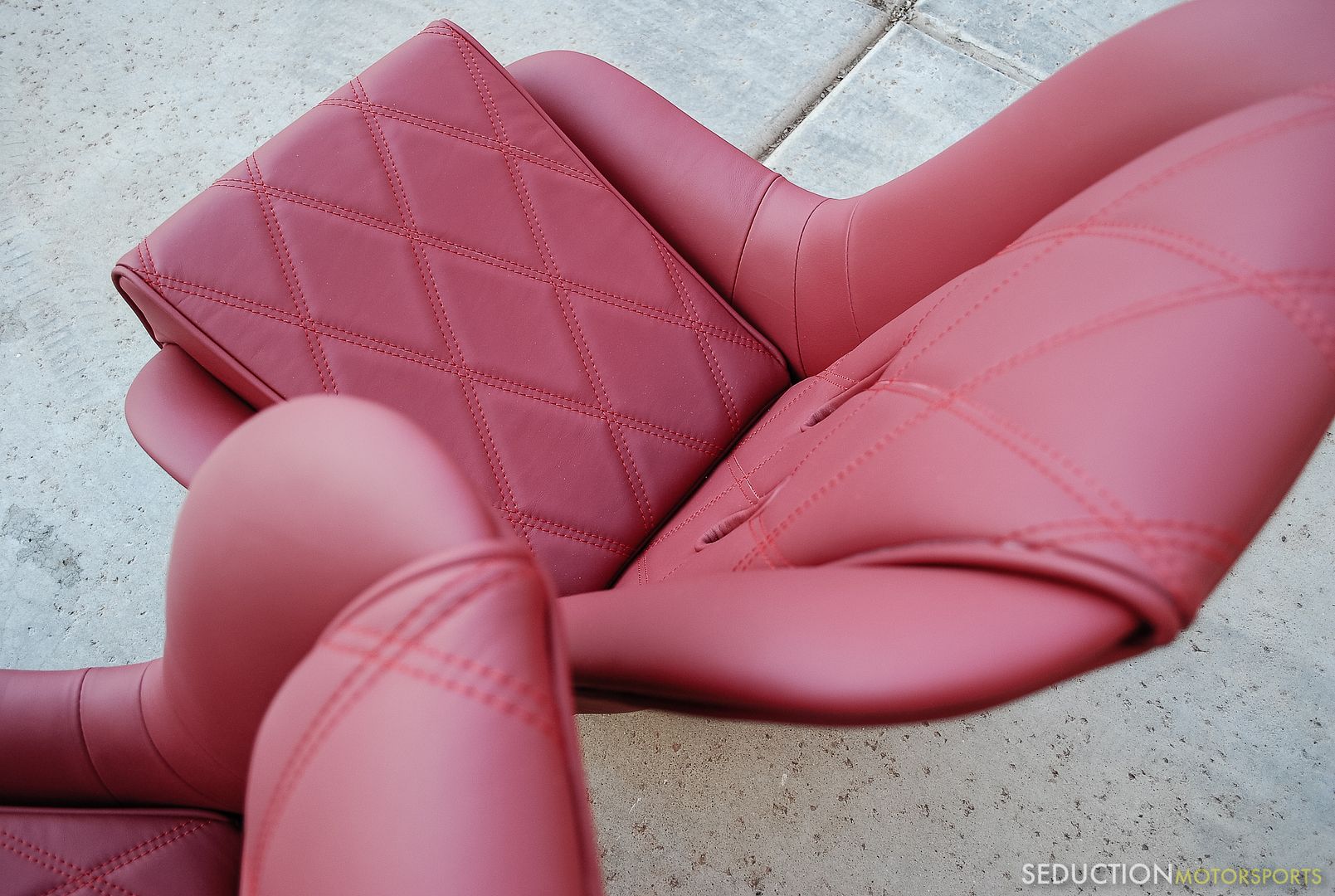 Here we have our Premium Caramel Vinyl with SMALL DOUBLE DIAMOND stitching, seat backs were upholstered, breather holes in the backrest were optional, the lower seat slider mounts were upholstered as well.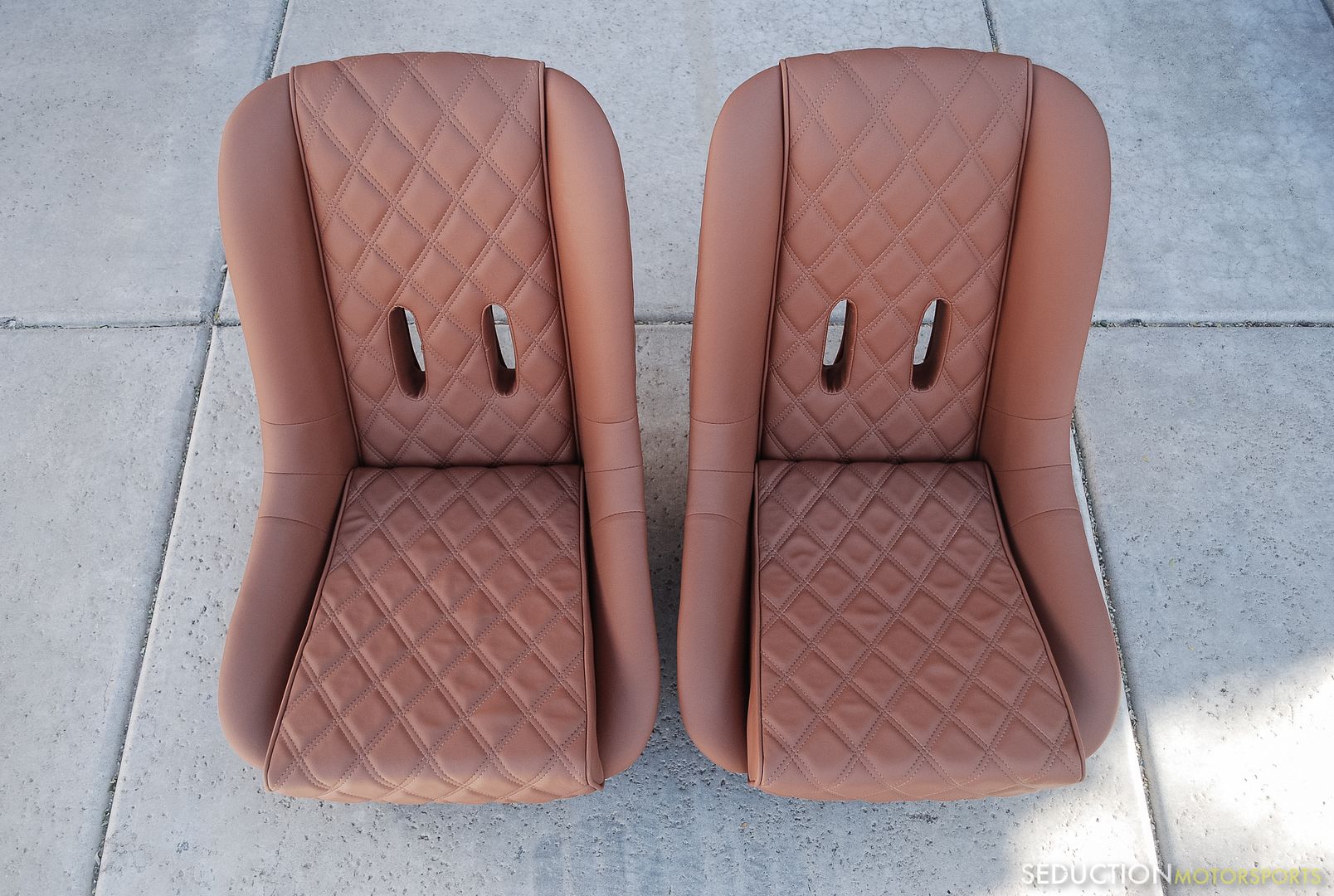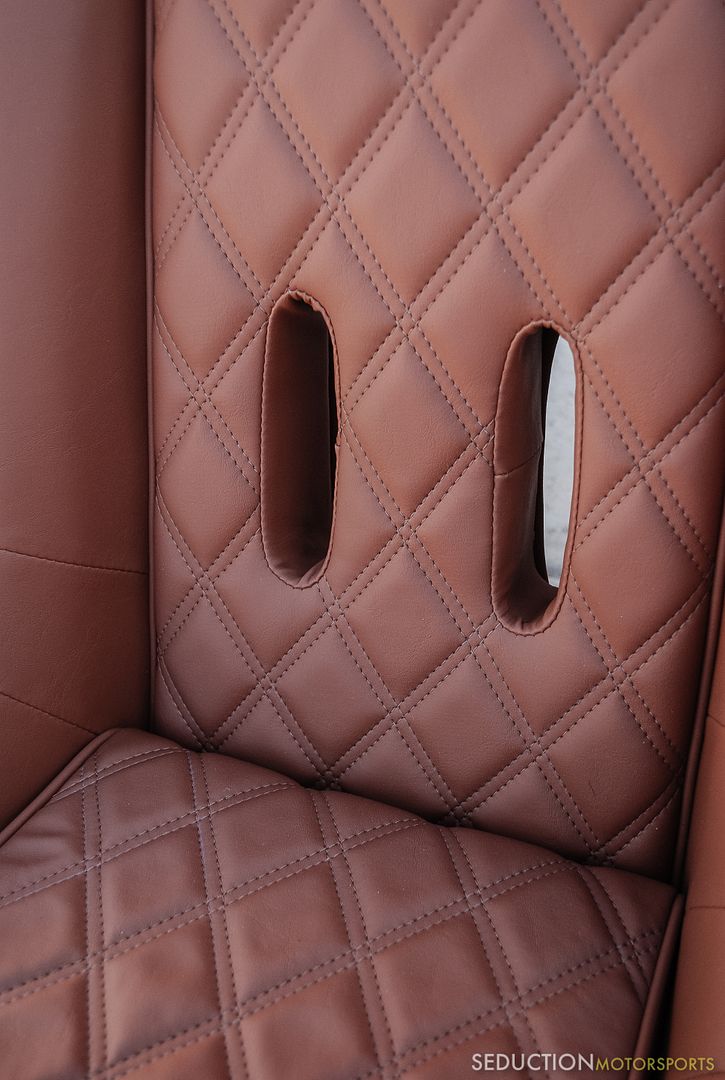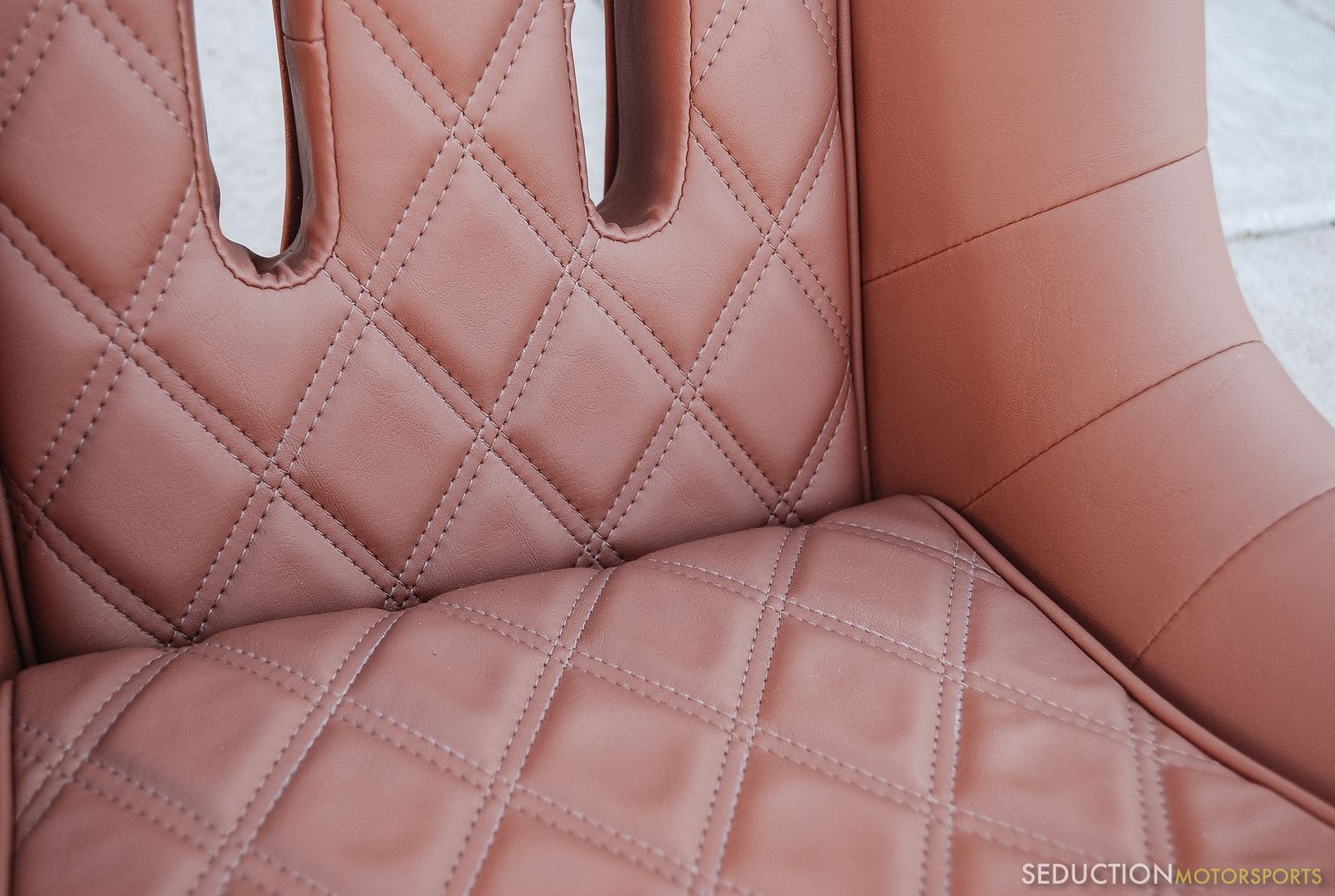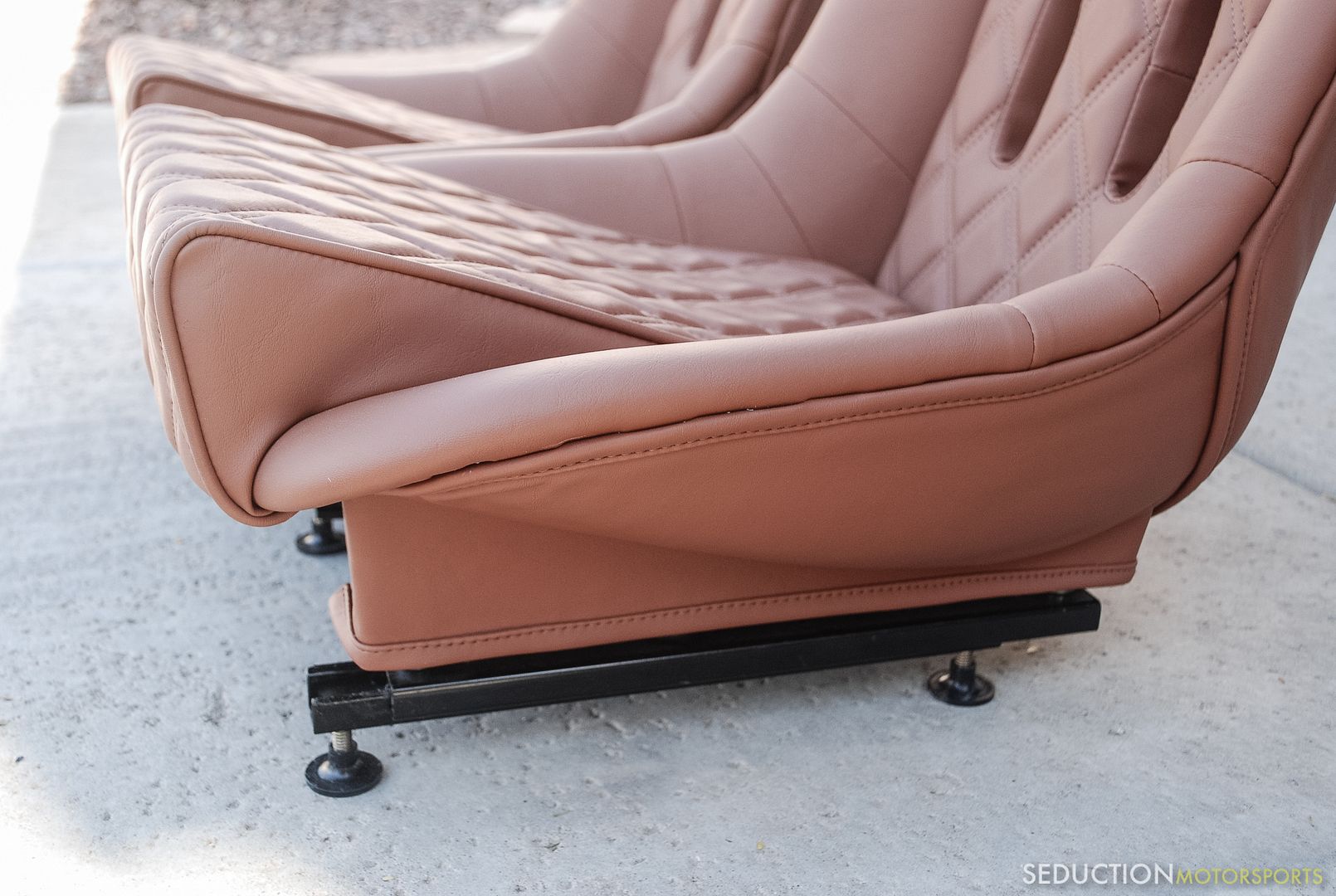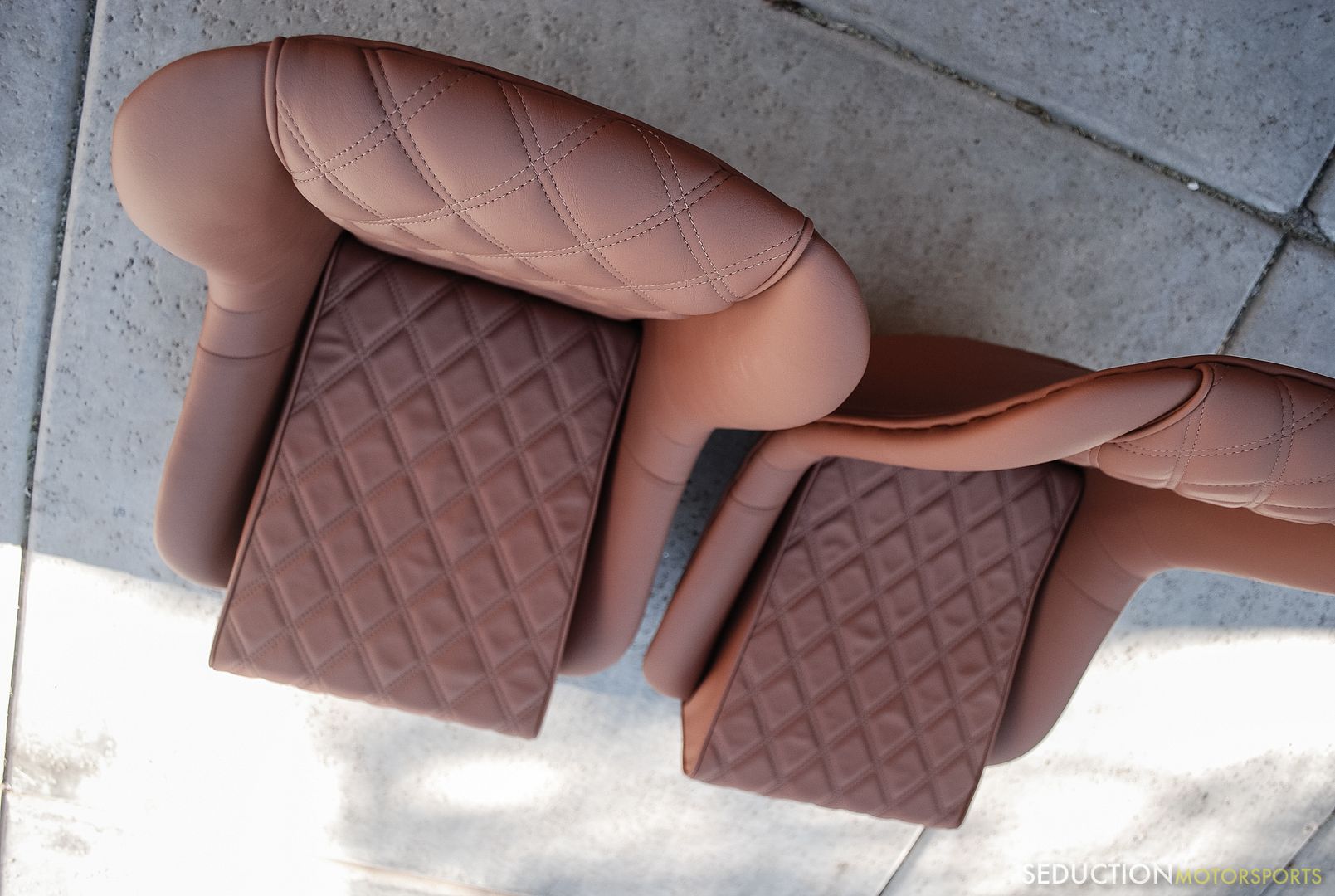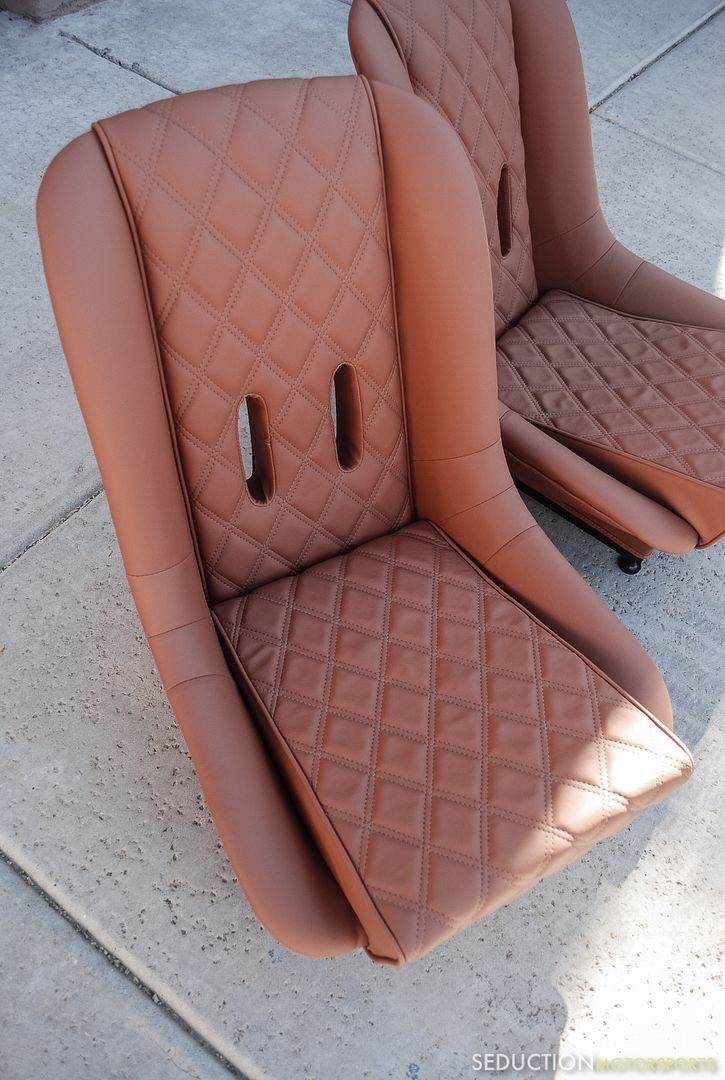 Half of the detail you will never see when installed in the vehicle... however it would bother us if we settled for anything less of quality.
We are working on more samples of interior colors, fabrics, etc. We are also in the works of making billet machined seat adjuster lever knobs and will keep this thread updated with pictures.
Please email us at sales@SeducitonMotorsports for inquiries. Thank you.
-Daniel
UPDATE: (May 5, 2014)
Hi everyone! Little update on some upholstery work we offer as well as kits and turnkey 550 Spyders & 356 Coupes
Seduction Motorsports 550 Spyder/356 Speedster Seats with the following options:
-Premium Leatherette
-HAND STITCHED!! Double Small Diamonds
-No backrest breather holes
-Dual zone heated
-Sliders
-CNC Machined Aluminum Adjuster Knobs
Built as optioned, priced at $2,399.00 USD (per pair of 2) plus shipping.
Leather is available, breather slots are available, as well as different colors and stitch work. Please email us at:
sales@seductionmotorsports.com
for custom inquiries.These ARE NOT CHEAP vinyl seats like you can find for less than $1k a pair. These are for drivers and owners who only want premium QUALITY for their custom vehicles that they spend hours building. Why settle for cheap copies and materials? For the hand stitched double diamond pattern the seats take a little longer to build. 40 hours alone in stitch work on the diamonds (wish we could speed up this step to keep costs lower on the seats, however quality takes time and precision). Check out our website and Facebook page for other colors and seat options.
Thank you,
-Daniel